Hello Smart Air purifier
The smallest of the HORIZON family, but by no means less powerful.
HELLO has an ozone generator, ideal for purifying and sanitizing the environment with maximum safety. The equipment has a radar system capable of stopping the production of ozone as soon as it detects a person or animal in the room to be treated.
Suitable for Beauty Centres, Receptions, Pets, Offices Businesses.

Features:
Suppression of ultra-thin particles (PM1.0)
Filtration of particles with up to 1 μm.
360º Air diffuser
Sucks up and expels air in 360° for a greater efficiency without blind spots.
Ions generator
The ions generator groups the noxious particles from the environment in order to facilitate their filtration
Remote control and WI FI connection
APP available so that you can control the device through your smartphone and operate remotely thanks to the device's WI-FI connection.
Ozone
Ozone generation. Effective reduction of odours and germs in the environment.
Safety radar
Maximum protection for your family. The equipment detects the presence of people and animals and automatically switches off the ozone mode
Touch screen
Elegant tempered glass touch screen for an easy and comfortable control.
UV led
Equipped with a UV-C led for a better conservation of the filters and to avoid the proliferation of moulds and bacteria during their useful life.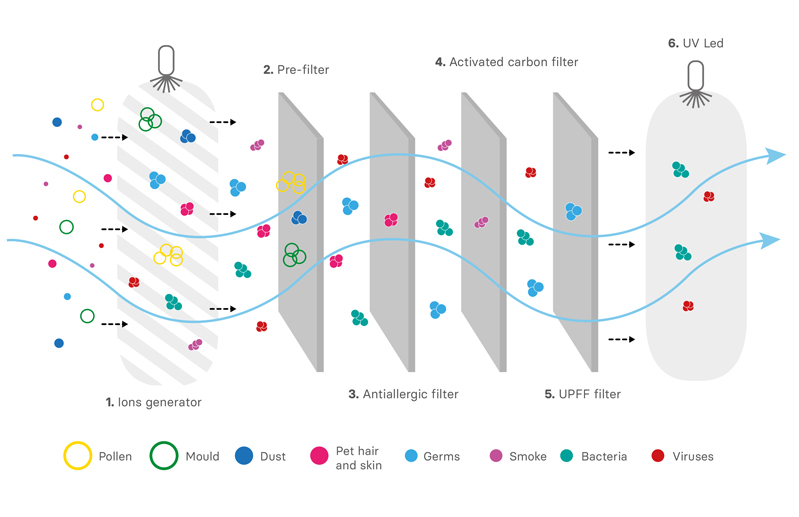 Photocatalytic filter In combination with 6 UV-A LEDs, the filter generates ions (OH) that attack the pollutant organic molecules.
Funcionalities:
Timer
Working period adjustable via smartphone.
Locking mode
Allows to lock, through the smartphone, the buttons of the equipment so that they are not pressed accidentally or by children.
Ozone mode
Automatic cycle of ozone generation during 60 minutes to sanitize and purify the environment. It can only be activated via smartphone.
Night mode
The equipment has a night mode that allows to sanitize the bedroom without annoying lights or noises that may interfere with the rest.
Push notifications
The latest generation APP will send you important information and records about the status and operation of the equipment. Privacy policy and software service.
Technical especifications
Surface area covered: 15 m²
CADR*: 150 m³/h
Electrical supply: 100-240 VAC / 50~60 Hz
Consumed power: 16 W
Weight: 1,45 kg
Working temperature: 0 - 40 ºC
Size A x B x C: 180 x 180 x 240 mm
HORIZON AIR Sensor: -
Control APP: Yes
*: Volume of air with hazardous particles that the equipment is capable of purifying in one hour.