HA-700 Air purifier
The most powerful equipment of the collection able to main-tain clean an area of up to 100 m² thanks to its double filtration system.
It also incorporates UV LED technology for the elimination of bacteria and viruses. An ideal system for the sanitization of the environment with people and animals.
Suitable for business, Restaurants, Home, Medical centres, Waiting rooms.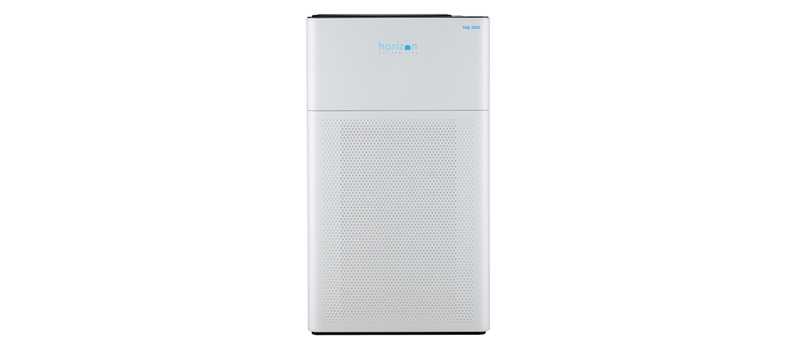 Features:
Suppression of ultra-thin particles (PM1.0)
Filtration of particles with up to 1 µm.
Double filtration
With a total of 8 filers installed in both sides of the equipment, it guarantees a clean air and a higher filtration rate.
Real-time air quality status
El sensor de partículas ultrafinas (pm 2.5) permite monitorizar a tiempo real la calidad del aire de la sala.
Blue – good (0 – 15 μg/m³)
Green – normal (16 – 50 μg/m³)
Yellow – bad (51 – 100 μg/m³)
ed – very bad (> 101 μg/m³)
Double air inlet and multiple discharge structure
The equipment sucks the air though two sides, filters it, and spreads it out towards multiple directions.
Double ultraviolet led (UV)
Ultraviolet radiation damages the DNA of many microorganis-ms and prevents them from reproducing. In this way, bacteria, viruses and fungi can be eliminated wi-thout leaving any residue.
Ions generator
The ions generator groups the noxious particles from the envi-ronment in order to facilitate their filtration.

Funcionalities:
Timer
It allows to configurate the automatic turn off of the equipment.
Night mode
The equipment disposes of a night mode that allows it to sa-nitize the bedroom without annoying lights or noises that may interfere with the rest.
locking mode
It allows to block the equipment buttons so that they cannot be pushed accidentally or by children.
Auto mode
The equipment itself will adapt its parameters to the needs of each moment thanks to the PM2.5 analysis.
PM2.5 Aanalysis
Thanks to the dust sensor of last generation, the purifier Will analyse several environmental parameters, such as moisture, temperature and PM2.5 level, which will tell us the concentra-tion of solid particles which aerodynamic diameter is lower than 2.5 µm and that may harm our breathing system.
Technical especifications
Surface area covered: 100 m²
CADR*: 764,4 m³/h
Electrical supply: 220 - 240 VAC / 50 Hz
Consumed power: 68 W
Weight: 14 kg
Working temperature: 5 - 30 ºC
Size A x B x C: 767,5 x 440 x 330 mm
HORIZON AIR Sensor: Temperature, humidity PM2.5 levels
Control APP: No
*: Volume of air with hazardous particles that the equipment is capable of purifying in one hour.